Fire protection suit is made of flame retardant fiber fabric and vacuum aluminum-coated composite material, which does not contain asbestos. It has the advantages of light in weight, high strength, flame retardant, high-temperature resistance, heat radiation resistance, waterproof, wear-resistant, folding resistance, harmless to the human body, etc., and can effectively ensure that firefighters and operators in high-temperature places are close to the heat source without being burned by heat, flame, and steam.
Fire protection suit is composed of the outer layer, heat insulation layer, comfort layer, and other layer fabrics. The materials (eg fire safety film) of this combination part can be made into a single layer or multi-layer. The outer layer of heat insulation clothing should be made of aluminum foil surface material with reflecting radiation heat, which can also meet the requirements of the basic clothing manufacturing process and the performance requirements of accessories corresponding to the standard.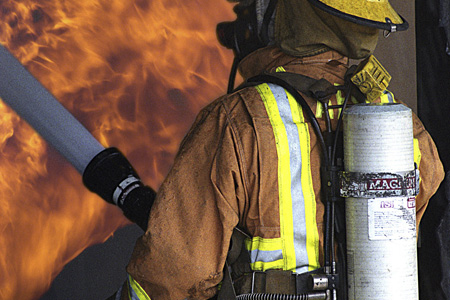 Wearing Method of Fire Protection Suit
1. Take out the fire protection suit from the packing box.
2. Carefully remove the package, unfold the fire protection suit and check whether it is intact.
3. Open the zipper on the back of the fire-protection suit.
4. First put your leg into the conjoined fire protection suit, then put your arm into it, and finally put on your hood.
5. Zip up and press the button.
6. Put on safety boots and adjust the shoelaces according to your needs.
7. Make sure that the trouser legs completely cover the boot barrel of the safety boots.
8. Finally, put on gloves, so that you have put on a complete set of a fire-protection suit and components.
9. Take off the fire protection suit in reverse order.
Fire Protection Suit Maintenance Method
1. Check the condition of the fire protection suit after each use and take it off, focusing on whether the clothes are worn.

2. If you want to remove the residual dirt on the fire protection suit, use tap water, neutral soap, and detergent if necessary. Detergents are only used in contaminated areas. Be careful as detergents may damage the aluminized surface.
3. If the fire protection suit has come into contact with chemicals or bubbles are found, the whole aluminized surface should be cleaned. If there is oil or grease residue on the fire protection suit, clean it with neutral soap.
4. The fire protection suit must be dried thoroughly before re-storage, and it's better not to fold it.
5. If the surface of the fire protection suit is covered with a small area of burning marks or wear, which is not very serious, it can be repaired with an aluminized spray gun. If the exterior of the fire protection suit is damaged, the suit should be replaced.